CATEGORIES
LATEST NEWS
CONTACT US
ADD: Room A-2706,Unit 2,Hengrui Building,Zhuque South Road,Yanta District,Xi'an,China.
TEL: 0086-29-62900208
FAX: 0086-29-62950916
E-mail: info@plant-extracts.com

> plant extract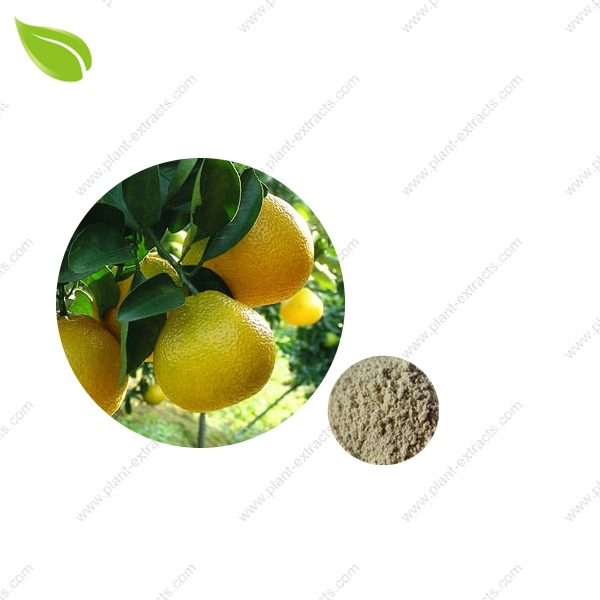 Shaddock Peels Extract
Min.Order Quantity:0.5 Kilogram/Kilograms
Supply Ability:1 Kilogram/Kilograms per Week
Port:China Main Port
Payment Terms:L/C,D/A,D/P,T/T,Western Union,MoneyGram
Product description: Shaddock Peels Extract manufacturer and Shaddock Peels Extract supplier also factory wholesaler distributor - over 4,000 Shaddock Peels Extract buyers around the world at plant-extracts.com
PRODUCT INTRODUCTION
100% Natural Shaddock Extract:
Product Name:Grapefruit Extract/Grape Peel Extract/Pomelo Extract
Botanical Name:Citrus paradisi Macfadyen
Part Used:Peel/Fruit
Active Ingredient: Naringin 98%,4:1~20:1
CAS No.:10236-47-2
Appearance:Light Yellow or off-white powder
Mol. Formula: C27H32O14
Mol. Weight: 580.53
What is Shaddock Extract produced in Nutramax?
Grapefruits are a citrus fruit that have long been used as a diet aid.People drink the juice and eat the fruit to help them keep calories low.However, the grapefruit peel has some beneficial health benefits as well.It can be used fresh or dried and shows up in many unlikely places.Food
Grapefruit peel contains pectin, which has been proven to lower cholesterol.In addition,
there is fiber in the peel.
Raw Material:
Main Function of Shaddock Extract:
1.Grapefruit extract can be used in food, medicine and daily chemical industry;
2.Grapefruit extract treat hundreds of adverse health conditions in humans and animals alike.;
3.Grapefruit extract can be used externally as a disinfectant for both intact skin and to prevent infection in wounds;
4.Grapefruit extract has anti-inflammatory analgesic, anti-viral, antibacterial and aldose reductase inhibitory effect of the eye.
Application of Shaddock Extract:
1.As the raw materials of drugs, it is mainly used in pharmaceutical field;
2.As active ingredients of health products, it is mainly
used in health product industry;
3.As pharmaceutical raw materials.
NutraMax's Shipping:
DHL Express, and EMS for quantity less than 50KG,called as DDU service;
Sea shipping for quantity over 500KG; and air shipping is available for 50KG;
For high value products, please select air shipping and DHL express for safe;
Please confirm if you can make the clearance when goods reach your customs before placing an order, for buyers from Mexico, Turkey, Italy, Romania,Russia, and other places.
NutraMax's Services:
1, Tailor-made for every NutraMax's customers.
Feed grade
Cosmetic grade
Pharm grade
Food grade
Different specification
2, Third-party test for the products you demand.
3, Test your counter-samples and produce them for you.
4, Best discount for old customers.
NutraMax's Company Information:
About the company:
1.Hunan Nutramax Inc is one of the leading manufacturer of the.Herbal Extracts in China,specialized in herbal extract since 2003,and we enjoy the good reputation from our partners abroad and domestic.
2.Hunan Nutramax Inc. hold 3 factories for professionally producing Botanical /Herbal Extracts.
3.The total annual production capacity of herb raw material is 9000mt, we can supply morethan
800mt Botanical Extracts one year.
4.Our products are in great demand In USA, European, Japan etc., and being exported to over
40 countries throughout the world.
Plant Extract Products List
Home -> Product -> Plant Extract->Ginseng Extract
Home -> Product -> Plant Extract->Magnolia Bark Extract
Home -> Product -> Plant Extract->Hawthorn Leaf Extract
Home -> Product -> Plant Extract->Grape Seed Extract
Home -> Product -> Plant Extract->Sophora Japonica Extract
Home -> Product -> Plant Extract->Aloe Vera Extract
Home -> Product -> Plant Extract->Cordyceps Extract
Home -> Product -> Plant Extract->Eucommia Ulmoides Extract
Home -> Product -> Plant Extract->Rhodiola Rosea Extract
Home -> Product -> Plant Extract->Methyl Hesperidin
Home -> Product -> Plant Extract->Kudzu Root Extract
Home -> Product -> Plant Extract->Mulberry Leaf Extract
Home -> Product -> Plant Extract->Senna Leaf Extract
Home -> Product -> Plant Extract->Scutellaria Baicalensis Extract
Home -> Product -> Plant Extract->Ginger Extract
Home -> Product -> Plant Extract->Pomegranate Extract
Home -> Product -> Plant Extract->Shaddock Peels Extract

Home -> Product ->Herbal Extract->Eucommia Ulmoides Oliv Extract
Home -> Product ->Herbal Extract->Coriolous Versicolor Extract
Home -> Product ->Herbal Extract->Polyporus Umbrellatus Extract
Home -> Product ->Herbal Extract->Konjac Extract
Home -> Product ->Herbal Extract->Schisandra Extract
Home -> Product ->Herbal Extract->Stevia Extract
Home -> Product ->Herbal Extract->Bamboo Leaf Flavonoids
Home -> Product ->Herbal Extract->Pine Bark Extract
Home -> Product ->Herbal Extract->Rhodiola Rosea Root Extract
Home -> Product ->Herbal Extract->Marigold Extract
Home -> Product ->Herbal Extract->Andrographis Extract
Home -> Product ->Herbal Extract->Motherwort Extract
Home -> Product ->Herbal Extract->Kava Extract

Home -> Product ->Vegetable Extract->White Kidney Bean Extract
Home -> Product ->Vegetable Extract->Broccoli Powder
Home -> Product ->Vegetable Extract->Wheat Grass Powder
Home -> Product ->Vegetable Extract->Dried Potato Powder
Home -> Product ->Vegetable Extract->Red Pepper Powder
Home -> Product ->Vegetable Extract->Black Bean Extract
Home -> Product ->Vegetable Extract->Pumpkin Powder
Home -> Product ->Vegetable Extract->Cucumber Powder
Home -> Product ->Vegetable Extract->Onion Powder
Home -> Product ->Vegetable Extract->Soybean Extract
Home -> Product ->Vegetable Extract->Barley Grass Powder
Home -> Product ->Vegetable Extract->Celery Powder
Home -> Product ->Vegetable Extract->Spinach Powder
Home -> Product ->Vegetable Extract->Carrot Powder
Home -> Product ->Vegetable Extract->Garlic Powder
Home -> Product ->Vegetable Extract->Tomato Powder
Home -> Product ->Vegetable Extract->Cucumber Extract

Home -> Product ->Fruit Extract->Papaya Juice Powder
Home -> Product ->Fruit Extract->Bitter Orange Extract
Home -> Product ->Fruit Extract->Passion Fruit Juice Powder
Home -> Product ->Fruit Extract->Acai Berry Juice Powder
Home -> Product ->Fruit Extract->Pineapple Juice Powder
Home -> Product ->Fruit Extract->Grapefruit Juice Powder
Home -> Product ->Fruit Extract->Blackcurrant Juice Powder
Home -> Product ->Fruit Extract->Wolfberry Extract
Home -> Product ->Fruit Extract->Cranberry Juice Powder
Home -> Product ->Fruit Extract->Hawthorn Extract
Home -> Product ->Fruit Extract->Mango Juice Powder
Home -> Product ->Fruit Extract->Acai Berry Extract
Home -> Product ->Fruit Extract->Blueberry Juice Powder
Home -> Product ->Fruit Extract->Ursolic Acid
Home -> Product ->Fruit Extract->Strawberry Juice Powder
Home -> Product ->Fruit Extract->Raspberry Juice Powder
Home -> Product ->Fruit Extract->Lychee Juice Powder
Home -> Product ->Fruit Extract->Pomegranate P.E.
Home -> Product ->Fruit Extract->Orange Powder
Home -> Product ->Fruit Extract->Lemon Juice Powder
Home -> Product ->Fruit Extract->Spine Date Seed Extract
Home -> Product ->Fruit Extract->Guava Juice Powder
Home -> Product ->Fruit Extract->Peach Powder
Home -> Product ->Fruit Extract->Cherry Juice Powder

Home -> Product ->Losing Weight Extract->Kidney Bean Extract
Home -> Product ->Losing Weight Extract->Garcinia Cambogia Extract
Home -> Product ->Losing Weight Extract->Cassia Nomame Extract
Home -> Product ->Losing Weight Extract->Green Coffee Bean Extract

Home -> Product ->Mushroom Extract->Agaricus Blazei Murill Powder
Home -> Product ->Mushroom Extract->Chaga Mushroom Extract
Home -> Product ->Mushroom Extract->Needle Mushroom Powder
Home -> Product ->Mushroom Extract->Cordyceps Mycelia Extract
Home -> Product ->Mushroom Extract->Hericium Erinaceus Powder
Home -> Product ->Mushroom Extract->Agaric Powder
Home -> Product ->Mushroom Extract->Ganoderma Extract
Home -> Product ->Mushroom Extract->Shiitake Mushroom Powder

Home -> Product ->Spices Powder->Cumin Seed Extract
Home -> Product ->Spices Powder->Mint Seasoning Powder
Home -> Product ->Spices Powder->Mustard Seasoning Powder
Home -> Product ->Spices Powder->Red Rice Yeast Extract
Home -> Product ->Spices Powder->Tangerine Peel Extract Powder
Home -> Product ->Spices Powder->Pricklyash Peel Extract
Home -> Product ->Spices Powder->Anise Extract
Home -> Product ->Spices Powder->Dried Onion Powder
Home -> Product ->Spices Powder->Coix Seed Extract
Home -> Product ->Spices Powder->Almond Extract
Home -> Product ->Spices Powder->Garlic Extract
Home -> Product ->Spices Powder->Curcuma Extract
Home -> Product ->Spices Powder->Cinnamon Extract
Home -> Product ->Spices Powder->Nutmeg Extract
Home -> Product ->Spices Powder->Lilac Extract
Home -> Product ->Spices Powder->Pepper Extract
Home -> Product ->Spices Powder->Bay Leaf Extract
Home -> Product ->Spices Powder->Fennel Extract